The end of 2019 is upon us and here at Ray White Hawke's Bay, we have been very busy elves preparing for another incredibly busy Christmas.
This year we are proud to support the Ronald McDonald House Charities® (RMHC®) New Zealand, Christmas campaign – The Unwrappable Gift.
This is because, this festive season, they will provide over 500 families with accommodation, meals, parking and much-needed support while their child is in a hospital away from home. That is over 3,500 nights' accommodation during this time, at a cost of $140 per night.
For the families that stay with them, it will all be provided free of charge. So, to ensure families can be together to offer their child – and each other – the support they so desperately need at Christmas, they need to reach new audiences, make friends with more people and together raise over $400,000.
So Ray White is here to help, every step of the way.
How can you help?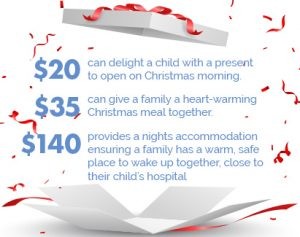 Your kind donations will help keep the magic of Christmas alive for families with a child in hospital away from home.
$20 can delight a child with a present to open on Christmas morning
$35 can give a family a heart-warming Christmas meal together
$140 provides a nights accommodation ensuring a family has a warm, safe place to wake up together, close to their child's hospital.
Together we can continue to make a difference to families that desperately need our help this Christmas. Thank you for all your support. We wish you and your loved ones all a very happy, healthy and safe Holiday Season!